The following information was provided to me by Joe Lederman of the Mesothelioma Cancer Center. I am happy to provide this information to the public in an effort to provide information about the risks associated with mishandling of asbestos.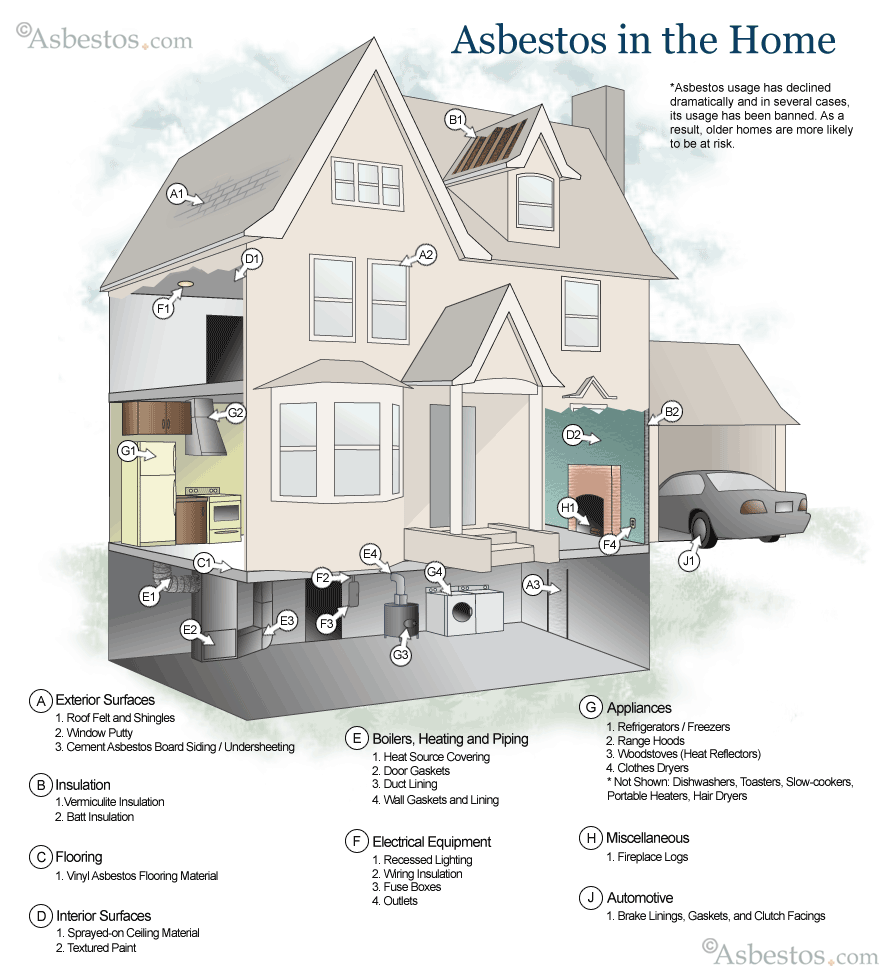 When searching for a new home or apartment, there are many things to consider. The path to owning a home will be one of the greatest investments in your life, but it will bring many additional responsibilities. Newly bought homes are often remodeled and repairs are always needed. There are many things to consider in the real estate industry when purchasing, remodeling or foreclosing an older home.
Virginia's large industrial history has given the state a relationship with asbestos. This fibrous mineral gained popularity at the early part of the 20th century due to its innate fire resistant and durable qualities. Its characteristics made it perfect for building and construction applications.
Asbestos typically appeared in ceiling insulation, piping, siding, roof shingles, brake lining and flooring. Industrial sites that have used asbestos in Virginia include shipyards, chemical sites, power plants and oil refineries.
Potential Virginia home buyers or those seeking to buy an older home should be aware that homes and buildings constructed before 1980 could still contain asbestos materials. This does not mean you should jump out of your chair because asbestos exposure can be easily prevented by taking simple precautions.
It must be noted that not all asbestos poses health risks. Asbestos that is disturbed or damaged due to age is known as "friable" asbestos. This is a concern because its toxic fibers can easily circulate and become inhaled. Consistent and long term exposure can result in the development of related illnesses such as asbestosis and mesothelioma. Mesothelioma causes are as a result of inhaling asbestos fibers that become ingested in the inner linings of your lung. Due to the fact many mesothelioma symptoms are similar to less serious ailments, Diagnosis of mesothelioma is one of the more difficult tasks physicians encounter.
If any suspected asbestos is located, the best advice is to leave it alone. If you are having home renovations, performed, do not panic. Again, asbestos that is left un-disturbed will normally pose no threat. If asbestos needs to be removed, it must be performed by licensed abatement contractors. The Virginia Department of Labor and Industry "regulates asbestos through enforcement of the Virginia Occupational Safety and Health regulations."
Many locations throughout the United States are swiftly changing their construction practices to suit the environment and the health of human beings. Many green healthy alternatives to asbestos are available and should be sought out upon removal or renovation. These include the use of cotton fiber, lcynene foam and cellulose. Research has demonstrated that these Eco-friendly insulation alternatives can even reduce annual energy costs by 25 percent!
Recently, congress passed an economic stimulus package that promotes energy efficiency for home and business owners. The American Recover and Reinvestment Tax Act of 2009 includes incentives for upgrading to more Eco-friendly/sustainable methods of energy and insulation. The move to a greener lifestyle will build on the change to healthier methods of building products, home remodeling and renovation.
Finally, if you  suffer from, or believe that you might be suffering from, Mesothelioma, the Mesotheliomagroup.com is a great resource. This group provides up-to-date, free, information and support, specifically focused on helping patients.
Another source of information for those who find that they maybe suffering from Mesothelioma is the Mesotherlioma Help Now site. Mesothelioma Help Now.
If you like what you've read, please consider subscribing to my blog by clicking on the Orange RSS button and following the instructions. Thanks!
A GREAT Real Estate  experience.
If I can help you, your friends or family buy or sell their next home in Northern Virginia, please let me know!
If you need help with a home outside of Northern Virginia, I have an extensive network of referral agents and will make sure you are working with the best!

The contents of this blog may not be copied or reproduced without the permission of Holly Weatherwax.
Save